GuitarLegendVideos.com – the place where you find the best collection of cute cat videos, silly fail compilations and tutorials on how to rickroll people.
Uhm, no. Of course not.
Here you'll find guitar performances that are:
legendary
iconic
inspiring
full of solid, groovy rhythm guitar parts
showcasing blistering technical solos
(or) featuring simple, yet melodic and heart-felt solos
Occasionally, I'll include an interview, a well-made tutorial of some kind or an article about a specific music concept. But only if it is insightful and relevant.
Rock, Jazz, Fusion, Funk, Blues, Classical, Flamenco, etc . I don't really care about the style. As long as there's something to learn from and get inspired about.
GLV is not supposed to feature any and every video out there – there's YouTube for that. Instead, it's a curated site with hand-picked videos. This makes it definitely highly subjective. I'll naturally start with my own fav videos and resources.
To decide what videos to feature I use the filter lens of:
Do I want my students to see this?
Will it help to inspire and motivate them?
Does it demonstrate an important playing technique or musical concept in a clear way?
Will it provide a showcase of how far you can get by diligent practice?
So, please don't be offended if you don't find your own fav videos on the site. Keep the subjectivity in mind. GLV also is a work in progress. I'll add more videos, my commentary as well as related resources over time.
---
Let Me Introduce Myself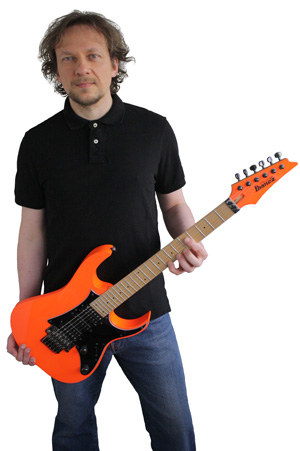 Hi, my name is Marko Zirkovich.
Many, many years ago I started with recorder and piano lessons as a kid, but switched to guitar in my late teens. I've been fortunate to have studied at the American Institute of Music in Vienna as well as the famous Musician's Institue (GIT) in Los Angeles where I graduated with a Bachelor's Degree in Music.
Since returning to Austria I've been teaching guitar (and a bit of piano/keyboards) and producing music for various publishing companies.
Thank you for your interest – I hope you'll join me on this musical journey. Let's enjoy all the great guitar music and learn from the legends together. Finally, don't forget that after you get inspired you need to take action and practice! 🙂
All the best,
Marko